Pieces of Me
"We leave something of ourselves behind when we leave a place, we stay there, even though we go away. And there are things in us that we can find again only by going back there." - Pascal Mercier
"There used to be three trees," I called to the man sitting on his front porch as I got out of my truck. Our front porch.
"You'll have to come closer," he said. "I don't hear very well." Maybe I was mumbling.
It was an ungodly hot August morning in Lake Don Pedro's Central California foothills. I'd left the Book Passage Travel Writers and Photographers Conference in Corte Madera the day before, driving up from the broad Central Valley, along the Merced River, to revisit the golden foothills punctuated with oaks, scrubby live oaks and majestic valley oaks. Had I been blindfolded I still would have known I was in Don Pedro. Tarweed gave it away, or rather, the smell of tarweed, the yellow-flowered, sticky, fragrant weed growing intermingled in the long grass. As I stepped out of the truck, a blast of super-heated air did too.
The place at Lake Don Pedro looked familiar yet different. The Professor had meticulously maintained things, but it looked shabby. Neglected. Unloved.
Many of the things we'd left there when we moved up the hill to Tuolumne were no longer there. There were no horses in the pasture – the grass was waist-high. Most of the evergreen and cottonwood trees we'd planted, the geraniums and Shasta Daisies, were gone, victims of protracted drought and water restrictions, I supposed. Gone too were the crossbar rails on the front porch and the old wagon wheels. The house really needed staining. But at least the man on the porch was smoking outside.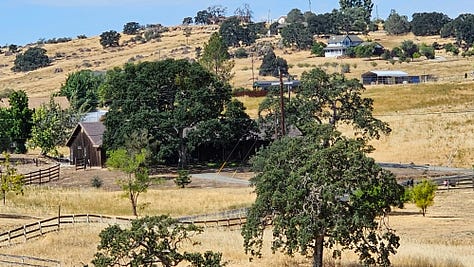 He'd covered the front yard area with low-growing succulents. Great place for rattlesnakes to hide, I said under my breath. We killed a baby on the doorstep, another inside the house, and many more in the yard in the 12 years we lived there. Was he nuts?
From 20 feet away, I spoke louder, slower. He tipped a good ear toward me.
"We built this house in '91. There used to be three oaks," I pointed to the missing one, "until the septic subcontractor cut a root of the oak on the east side."
He didn't react.
"Oh yeah," he nodded, recalling a distant memory as he breathed out cigarette smoke. "I met your husband in 2011."
The Professor had made a pilgrimage then to say goodbye to the place before he left California to join me in Idaho where I'd moved the year before. This was my first trip back. I couldn't come closer. It wasn't the smoke I was avoiding, it was the overwhelming feeling of sadness and remorse. I could see our past, but I wanted to touch it. It was out of reach.
I was looking at the place where we raised our daughter and buried our pets under the now-dead tree in the pasture. I chose the tile in the entryway, planted roses in the backyard, and hung light sconces from my mother's house on our bedroom wall. The Professor and his friends had stamped the concrete sidewalk under my feet. We had planted 12 fruit trees, two cherries, three apples, two apricots, two pears, two peaches, and two plums, but only three remained. I couldn't see which ones they were.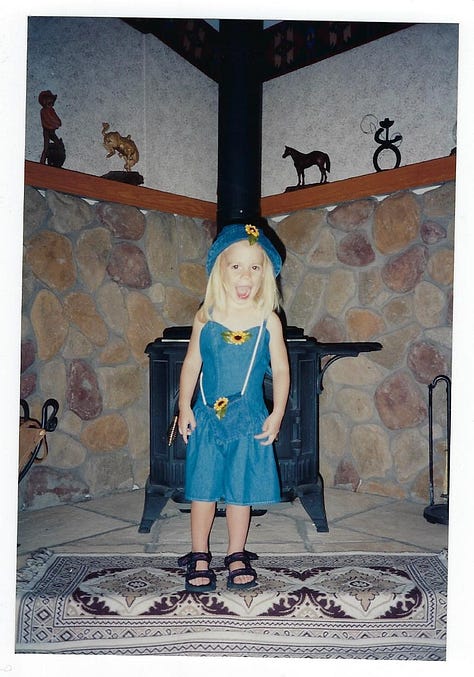 We stacked bales of good Central Valley alfalfa hay, saddled horses, and discovered nests of baby jack rabbits in the pole barn behind the house. We designed the shutters around the windows, built the empty doghouse and the round pen out back.
It was a place for building. Where we worked to make our dreams come true. I could see things that we left, pieces of us, everywhere. But we weren't. The place felt lifeless. Morose.
The man on the porch wasn't a brilliant conversationalist so my visit was short. He didn't invite me in and I didn't ask. I didn't need to see that everything had been changed or that the wallpaper was peeling, the kitchen sink was chipped, and the carpet, stained and frayed. I wanted to remember it as it was. As we were. Alive. Young. Full of promise.
"Do you like living here?" I asked him.
"Oh, yeah. It needs some work, but I like it."
"We did too," I said, chin trembling, turning to leave.
I didn't realize it at the time but I found what I came for. Parts of me that I've lost and also, who I am and can yet be.
There, I was a young mother who quit her job to start a small business and stay home with her daughter but who eventually went back to work full time. I was a good administrator and public information officer. I was a homeschool mother, not a bad teacher, but not a great one. I was a new writer inspired to write travel stories the first time I bought a copy of Outside Magazine in the nineties and read a Tim Cahill story. I was a horsewoman who loved to ride in the Sierra Nevada with her friends.
Most of all, I was a dreamer who made things happen. I dreamed so many things, some of them have come true. Others, I've discarded or revised. After I moved away, incrementally, I lowered my expectations of myself. Our daughter grew up, we retired, time moved on.
What I found in Lake Don Pedro though was that I still need big, audacious dreams. They make me feel alive. Hopeful. They keep me young. And I'm too young to feel old.
So though it was sad, I'm glad I went back because I listened to the pieces I left but found at Lake Don Pedro. I rediscovered me.
And then I took me back to Idaho.